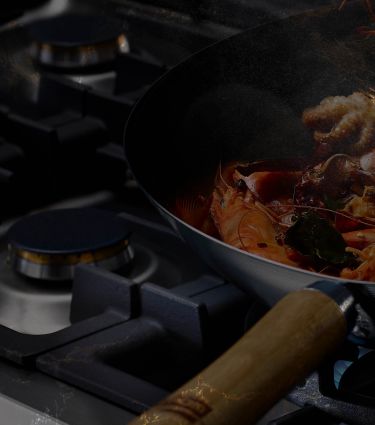 Range Cooker Features

5kW Dual Wok Burner
From a gentle 0.48kW to a powerful 5kW. Fast, controllable, professional performance at your fingertips.

Telescopic Sliders
Serve dinner straight from the oven thanks to telescopic shelves that safely slide right out for extra convenience.

Meat Probe
Delphi range cookers come with an inbuilt meat probe with sensors to recognise when the meat is cooked to perfection. Once the meat reaches the optimum temperature the oven will automatically switch off to avoid any over cooking.

Rotisserie
A superb way to cook pork, chicken, duck, and other game birds. As the rotisserie uses the grill element there is minimal spitting which helps maintain a clean oven cavity.

Quickstart
Britannia's unique "Quickstart" feature enables all 60cm main ovens to reach the ideal cooking temperature of 200°C in half the standard time of most ordinary ovens.

Chef's Top
The 5mm solid stainless steel Chef's Top lets you cook everything from steak and salmon to vegetables, and even a full English breakfast - all in a healthy, tasty and professional fashion.