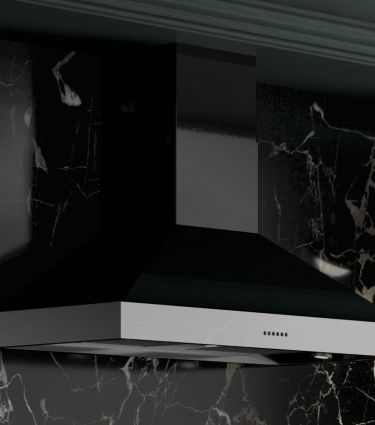 Cooker Hoods
Stylish cooker hoods
We have designed a selection of range cooker hoods comprising island, wall-mounted and canopy designs. Our attractively styled cooker hoods range from the ultra contemporary to the beautifully traditional, the perfect complement to our range cookers.

With a variety of cooker hoods available in gloss black and stainless steel finishes, and sizes ranging from 90cm up to 120cm, you're sure to find the perfect match for your Britannia. Alternatively, you can opt for a canopy hood that can be concealed in your kitchen units for a seamless finish.
Our range cooker hood features
Many Britannia cooker hoods feature our Advanced Sensor Control (ASC) system, which detects steam, vapour, smoke and odours generated by the cooking process, and automatically switches the hood on. When no further vapours are detected, the cooker hood continues to operate for a few minutes to clear any residual odours, before turning itself off. Of course, the hoods can switched to manual operation at the touch of a button if preferred.

Cleaning a cooker hood grease filter may be a notoriously unpopular task, but in a Britannia cooker hood, the filter is dishwasher proof for your convenience. It will also tell you when it's time to clean it with a built-in alarm, ensuring your hood always works at its best.