Choosing Your Perfect Range Cooker
With so many range cookers on the market, we know that choosing the best can be a difficult decision. That's why we've created a simple checklist comparing range cookers and features to help you. Spending a little time considering your options now will mean you make a choice you're happy with for years to come.
How it looks
What your range cooker should look like is a very personal decision. There are plenty of modern and traditional designs to choose from, and you can often pick any colour you like – for example using our Colourange service - so you're sure to find something that matches your kitchen design.
Size
Range cooker sizes can vary from 90cm to 120cm. When replacing a range cooker in an existing kitchen, it's vital to check the range cooker will fit. Furthermore you should check what distance is required between the cooker sides and the cabinets, as it can differ from brand to brand. Meanwhile if your cooker is part of an all-new kitchen, you can choose a size by asking yourself:

How many burners (or induction zones) you will use?
Is one oven enough, or do you need a large or small second oven?
Will you have enough space left for your kitchen cabinets?
Fuel type
If your home doesn't have mains gas, you can opt for either an all electric range cooker or have it converted for use with bottled gas. It's worth considering that electric hobs are easier to clean, but perhaps you prefer the traditional look of a gas hob. Check out our guide to choosing an induction or gas hob for more information.
Build quality
It's not easy to gauge quality in pictures on a website or in a brochure, so always visit a local showroom to make sure you're buying the best range cooker. Try opening and shutting the oven doors, and see and feel the quality of the build. While you're there, why not ask whether they have had a lot of quality problems with the model you're considering?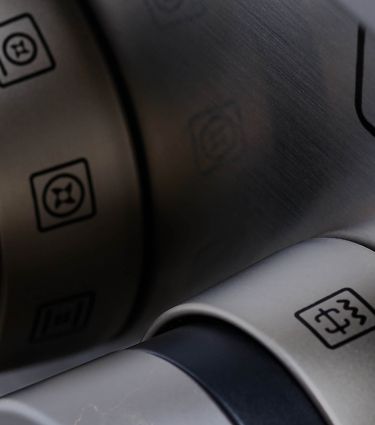 Cooking Features
When it comes to cooking features, there's a lot to consider. Look out for plenty of oven functions, and compare oven sizes carefully, because sometimes different standards are used. Why not take your favourite oven trays to the showroom and try them in an oven? It's also a good idea to attend live cooking demonstrations, which take place at showrooms all over the country. Meanwhile if you love chicken, a range cooker with a rotisserie should be a serious consideration – it's the easy way to cook a perfect, succulent chicken, and is great for other meats too.
Separate grill compartment
Some range cooker ovens already have a grill function - but would you prefer a separate grill compartment? If so, compare grill power and look out for useful telescopic (or slide-out) shelves to find the best choice. Alternatively, you could consider a range cooker with a stainless steel hotplate, which can be used for anything you'd normally grill.
Hob cooking features
If you've chosen a gas hob, what features do you need to consider? Look out for double or triple ring burners, which are extra powerful and quick to reach high temperatures. Some range cookers also offer cast iron or stainless steel hotplates, which can be supplied as standard or as an optional add-on. Meanwhile if you want a ceramic or induction hob, look out for boost functions and safety features such as child lock and residual heat indicators.
Oven furniture
The inside of an oven is often overlooked, but is so important to your cooking experience. Some of the things you should ask include:

How many oven shelves are there?
Is there a grill pan and grill pan handle?
Can you slide the oven shelves out easily?
Are telescopic shelves standard, or can you buy them as an optional extra?
Cleaning features
Stay clean liners (also known as catalytic liners) are a revolution in oven cleaning; they eliminate the need to clean the sides, back and/or roof of your oven. Some cookers have removable doors which will also make cleaning easier. As for the hob, look for individual pan supports, single piece hob pressings, and individual spillage wells – or go for an induction hob which can simply be wiped clean.
Safety features
One must-have feature for gas hobs is a flame failure device, which stops the gas supply if the flame is accidentally extinguished. Triple glazed oven doors and fascia cooling fans can also prevent overheating or burnt fingers.
Storage
Some range cookers have a hidden storage compartment or drawers where you can store baking trays, extra oven shelves, griddles, and so on. Opening and closing the doors can give you a feel for the quality of a range cooker.
Energy efficiency
Energy efficiency is much easier to ascertain. The brochure may tell you what energy efficiency rating the oven has; if not, call the company or check with the showroom. It is a legal requirement that showrooms know the energy rating of each product they display.
Programmers
The cooker programmer can function as a minute minder, or you can set start and finish times for the oven. Usually just one oven is controlled by the programmer, whereas some range cookers don't feature a programmer at all.
Fast pre-heat systems
This is a great shortcut if you are in a hurry, considerably reducing the time needed for pre-heating an oven.
Warranty
Always ask what kind of warranty is provided for the price. Some will only cover parts whereas ideally labour should be included.
Price
One of the biggest considerations is of course how much the range cooker costs. Of all the features you have compared so far, which are most important to you? Only you can decide what your budget is, and therefore which range cooker suits you best.